Pegase 90, FVV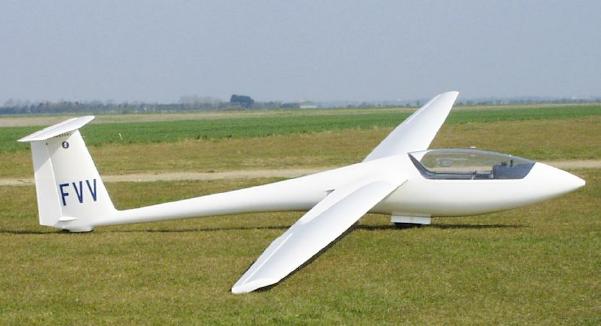 FVV is a Centrair Pegase 90.
Centrair developed the standard class Pegase 101 after manufacturing the 15 m. racing class Schleicher ASW-20 under license, so the Pegase is more closely related to the flapped ASW-20 than it is to the apparently more similar ASW-19. Its performance falls between the two Schleicher gliders. The Pegase 90 is the final production version of the type.
The Pegase uses carbon and fibreglass composite construction. Centrair designed the wing around the COAP 1-2 profile, which was developed by French airfoil experts. The fuselage is similar to the ASW-20 though the cockpit ventilation intake was moved to the nose and the wing to fuselage fairing was modified to suit the revised wing section. The 90 has automatic connections for all controls in contrast to the 101, which uses Hotelier connectors.
FVV forms part of the Cambridge club's high performance single seat fleet. Early solo pilots have the choice of converting to it or a Discus once 30 solo hours have been accumulated. I converted to it first and have no regrets about that: given a choice between the two types I'll fly the Pegase every time. It is a delight to fly and scratches very well in weak to non-existent thermals. The wings are quite flexible. Other pilots dislike this but I really like its ride and find that it applies plenty of "body english" to my backside. It has well balanced, though slightly rubbery, controls and is very responsive. The undercarriage handle is on the left, so there's no need to swap hands on the stick when raising or lowering it. The cockpit is extremely comfortable and very quiet. Taller pilots find it more spacious than a Discus and I appreciate the narrower console between my knees.
I accumulated 150 hours in FVV during my first two cross-country seasons.
| Specifications | | Performance | |
| --- | --- | --- | --- |
| Wingspan: | 15 m | Maximum L/D: | 41 @ 57 kts |
| Length: | 6.8 m | Minimum sink: | 0.60 m/s @ 43 kts |
| Height: | 1.19 m | | |
| Wing area: | 10.5 m^2 | | |
| Aspect ratio: | 21.4 | | |
| Empty weight: | 251 kg | | |
| Payload: | 204 kg | | |
| Gross weight: | 455 kg | | |
| Wing loading: | 43.33 kg/m^2 | | |
| Water ballast: | 160 kg | | |