Mon 25th: Day 3
The task this day was my second flight. This time I got an Assigned Area task in pretty hopeless conditions: low clouds and weak lift under an overcast sky. The minimum distance was 78 km and the target time was 3 hours. The two sectors, anchored on Bedford Bridge and Cambridge West, were to be entered in that order.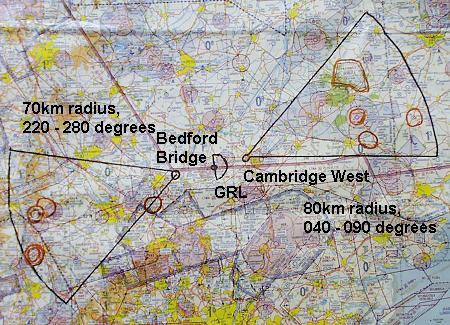 After launch we all had trouble staying up before the start. Conditions were so bad that Sport Class, who were to launch after us, had their task scrubbed. At one point the entire Club class was in one thermal near the field, provoking comments about plastic showers from the Sport pilots and commiserations that we had to fly. Shortly after that I went looking for my own lift, found nothing and ended scratching away from 850 feet over the middle of the airfield.
The gate opened 45 minutes after launch and I started three minutes later at 2000 ft. Thinking that conditions looked better to the west I set my GPS for Newport Pagnall and set off. Things started well enough, with a climb to 3000 ft just after passing Little Gransden. After crossing the A1 at 2000 ft I got a climb to 2500 ft and, deciding that the conditions were worse than I'd thought, abandoned ideas of Newport Pagnall and turned south-west to get a point in the sector before turning back. This was when things went wrong: I didn't find any more lift and, by not resetting the GPS to Bedford Bridge, I also managed to miss the sector entirely, eventually ending up over the Stewartby brick works to the south-west of Bedford. There was no lift to be had there either, so I ended up making a good landing in a large, flat stubble field alongside the A417 where it passes the brick works. This was only 38 minutes after starting and I felt a trifle foolish.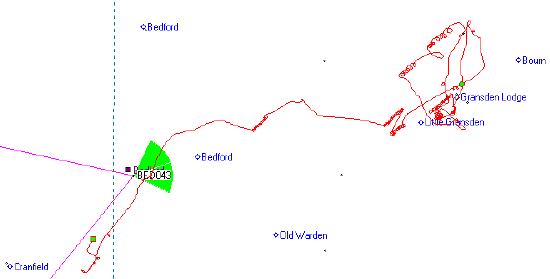 The next discovery was that the gates onto the field from the A417 were all locked and the farm manager was nowhere to be found. I spent the next 75 minutes walking grassy tracks before finding one that led to a road near the village of Wootton. I found the way to Wootton at about the same time as Paul arrived with the trailer, so we de-rigged the glider and were back at base in plenty of time for a beer and dinner.
When we got back I discovered that only five gliders had returned and that a number of gliders had covered even less distance than I had, so my 24.5 km distance was good enough for another 18th place. We retained our overall standing.