October 2001
Canada Cup and the World Champs at Lost Hills, Avenal
05/10/2001 Mini day for the Canada Cup. It was a windy day, so after a visit to the flying site, I drove down highway 33 past McKitterick to the Taft flying field. I spent the day trimming with Pete Allnutt and other Canadians, the Austrians and M&K. Got DG44 sorted out and DG84 half-trimmed. Hit the K-mart there for a chilly bin and disposable underwear and socks.
06/10/2001 Canada Cup F1A day. I thought this day was going to blow and so didn't fly in the contest, intending to go to Taft again. In the event the day was very flyable though models did go a long way. I got roped into timing for most of the day. A good social day.
07/10/2001 Canada Cup F1B/C day. This day was less windy than for F1A, though not at all calm. Again I spent the day on the flight line timing and retrieving. I timed John Cuthbert during the flyoffs. He flew well but just missed the air. Ken Phair had turned up and was involved in the flyoff controversy, timing for Ed Keck with Gundersen Sr. We ended up going to Wasco for a pizza. I seems that the town is slowly dying, with fewer restaurants each time I go there.
Eugene Verbitski's latest model. 4:1 gears, outrigger prop, exposed cylinder head. The wings are foil covered behind a carbon D-box. The outriggers are sprung so that they can't be damaged on landing and the blades are folded by springs. The prop folds cleanly no matter whether it stops horizontal or vertical.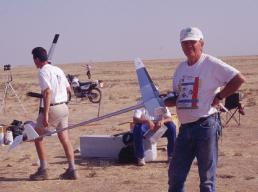 Here's Gerd Aringer's new open structure flapper. The timer is the Danish Multiclass configured to drive three servos: they control engine stop & rudder, flaps, stab & d/t respectively. The model has an under fin.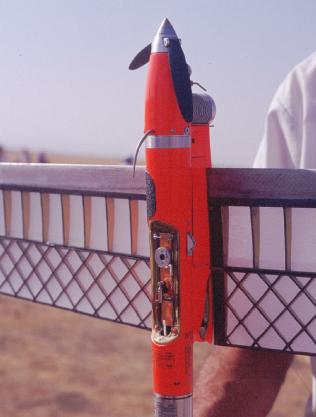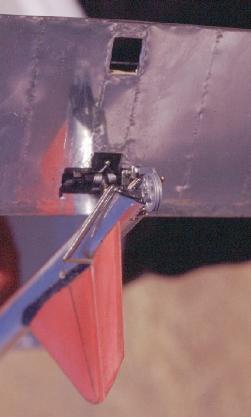 A geared F1C on a neat stand, which lets the model swivel so it always points into the wind.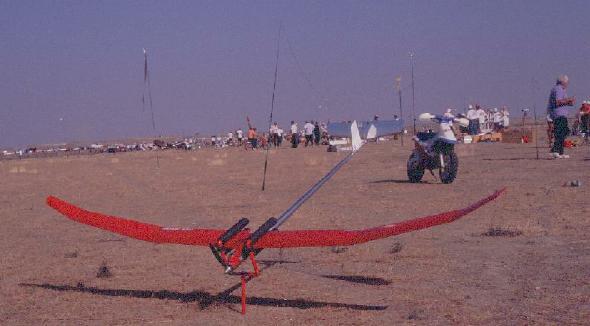 Gabor Zsengeller's own-design gear unit and prop. He is using a 4:1 reduction ratio but his prop is 370mm diameter rather than the 320mm favoured by Verbitski.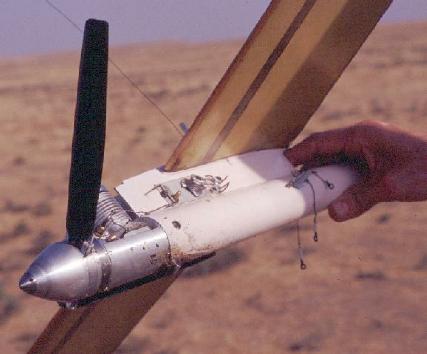 08/10/2001 Ken helped me trim and we very rapidly sorted out the remaining problems with DG84 and completely trimmed DG82 (the Ikarex monster) with its new Woebbeking section carbon stab in about 4 flights. The stall recovery proved to be remarkable, recovering from a vertical dive in three oscillations.
09/10/2001 World Champs: practise day and opening ceremony. A day to wander round chatting, looking at the shops and meeting old friends. It was very interesting to meet and talk with Ron Mogle about his approach to building timers. Another interesting contact was Bruce Kimball, who was camping at Lost Hills for the whole of the Champs. Bruce flies HLG and catapult models but is better known for his RCHLG activities. His approach to design and wing construction were both carefully thought out. He uses sharp TEs with the cloth extending 3 - 4 mm beyond the foam. I was also able to see discus launches demonstrated.
10/10/2001 World Champs: F1A. This was a difficult day. It was hot and still with treacherous lift and a lot of sink, especially at the upwind (tent city) end of the line. Chris Edge was the only British flier to reach the flyoff:
11/10/2001 World Champs: F1B. F1B got started after a two way F1A flyoff that saw Per Findahl pip Marten van Dijk by three seconds. This was a good, clear result with both models easily seen down. During the rest of the day I helped the UK team and dodged tarantulas. It was an easier day than glider day with large, well-marked thermals.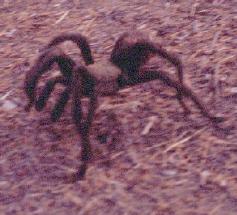 12/10/2001 World Champs: F1C. F1C got under way after a final 6 way F1B flyoff. This saw Oleg Kulakovsky repeat his previous win to beat Blake Jensen and Richard Blackham. It turned into a bad day for the UK team after lunch. Something went badly wrong with the team's lift picking strategy; neither Phil Ball nor Terry Dilks were particularly visible and Martin's calling was nonexistent. This was particularly aggravating as this was the breeziest day of the Champs and the lack of calling made both flapping and retrieving needlessly difficult. This day we got a winner, Babenko, during the evening flyoffs.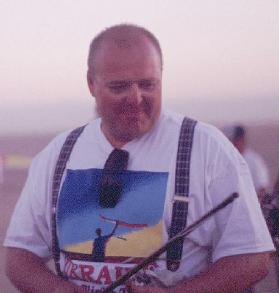 13/10/2001 Ken headed off back to Denver and, with time to kill before the bus was to leave for the banquet, I drove north to scope out Avenal, which is about 40 miles or three intersections north on I-5. Got there about lunch time, to a warm welcome and invitation to join in the club lunch. BBQ beef and salad, and very much appreciated. During this we discussed possible arrangements for visiting pilots and it was concluded that the way to go was to take a trial flight ($40) which includes a day's membership. Subsequent flights that day would be $25 ($20 for the tow and $5 for glider rental). After this I got a guided tour of the club and was able to have a good look at a member's AC-4, which he liked a lot. Avenal has a fleet containing two Schweitzer 2/33 trainers, a 1/26 single seater, a PW-5 and a PW-2 which is best described as a fibreglass SG-38 (Primary Trainer or Slingsby Grasshopper) with brakes. The strut fairings rotate to act as brakes. Somehow I got divested of $40 and found myself being strapped into a 2/33, N2745H, and prepared for yet another unassisted take-off.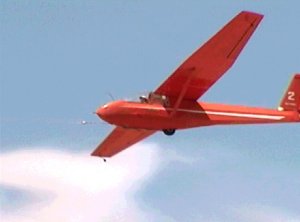 It has to be said that the 'angle of dangle' with the tip on the floor is a LOT greater in a 2/33 than it is in a Grob. The 2/33 is certainly very sluggish in its responses and hasn't much more airbrake effectiveness than a Slingsby T.21b, but that said, its easy to fly, has a better than expected sink rate, and slips very effectively. All in all, flying it was a pleasant way to spend 45 minutes despite the lack of any lift more powerful than a reduced sink rate. I'll go there again. I squeaked away just after three and made it back to Lost Hills in time to change and get on the bus to Stockdale and the WC banquet. The latter was at a very grand country club in a huge marquee that covered a whole tennis court. The food and company were both great, there was plenty of wine and beer, and the band was good too, once it had been enlivened by first John Cuthbert and then Andy Crisp taking over the drum kit.