October 2001
Soaring at Boulder
29/09/2001 London Gatwick to Denver 1330:1625. The flight across Canada and the US was a delight – clear of clouds from the bare rock and lakes of Nova Scotia to just short of Denver. The views as we skirted the west edge of the Great Lakes and crossed the plains were wonderful. Arrived more or less on time to be met by Ken Phair, after flying close by an active thunder storm on finals. Little change was made to security arrangements at Gatwick in the aftermath of September 11th and US Immigration was as slow as ever. The new Denver airport is huge and rather splendid.
30/09/2001 Picked up my rental car, a Mazda Protégé. Went shopping for model repair stuff, a 12v adapter to run the Koster battery charger. Also went to REI for a sun hat, flying gloves and Holofil-lined flying slippers.
01/10/2001 Drove to Denver International Airport to visit the FAA. Got issued with an US PPL. Drove to Mile High Gliding at Boulder Municipal airport to do the validating BFR. Three flights in N103LM, a Grob 103C Acro III, got me the BFR sign-off but found little good lift. The last flight was a tow to the Front Range, but that found nothing but sink. During this day I learnt the joys of flying from 18 foot wide sealed runways and of handling unassisted tow launches. In the latter you start with one tip in the weeds and pick it up as the glider starts to move. Its easier than I thought to do while also staying straight and remaining on the narrow strip.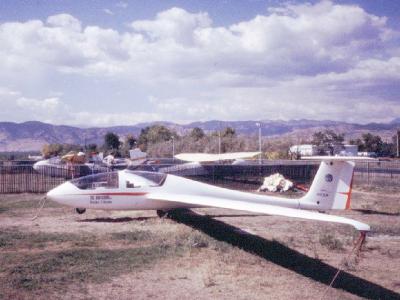 02/10/2001 Drove to Boulder, pausing along the way to photograph the Flatirons on the Front Range behind Boulder and a convergence line with virga underneath it.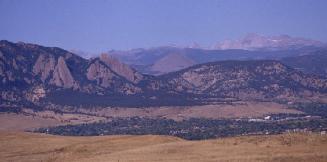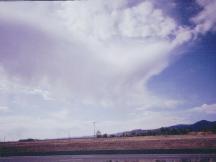 Did another flight in N103LM. Towed to 2500 AGL (7800 MSL) for another check flight. This time we caught good lift to 8500 and headed west toward down town Boulder, where we got a climb to 10,000 MSL, with a Bald Eagle for company during the final thousand.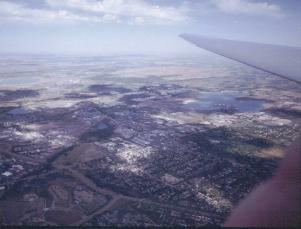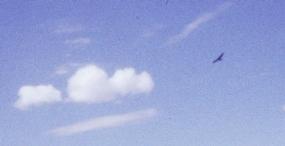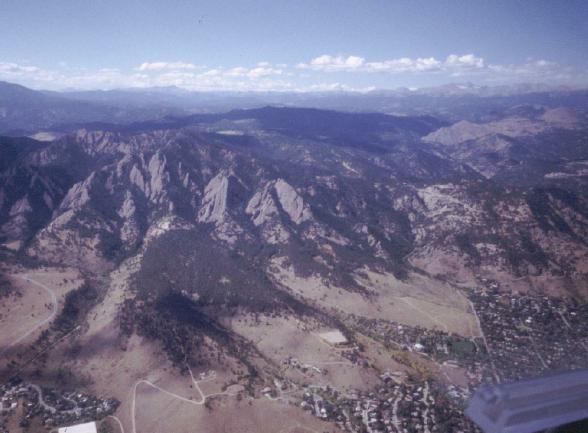 From here we headed west toward the mountains, finding secondary wave above the edge of town which took us to 14,000 MSL. We went on oxygen at 11,000. From here we pushed into the mountains toward a dense looking Cu. This marked thermals organised by wave and we rode these to 16,000 with +10 kts indicated and then pushed west to find the primary wave, but only found sink.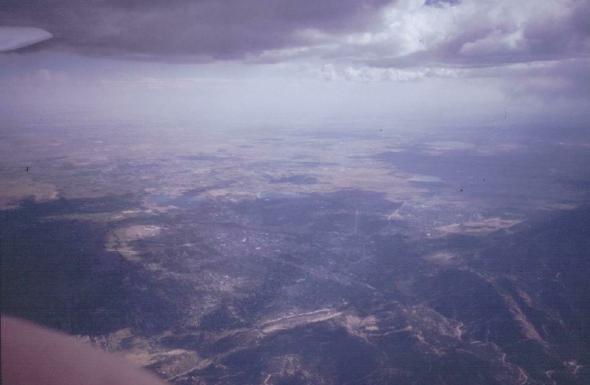 We slotted back under the cloud and pushed up to the cloud base at 17,000, built speed and shot out west in another unsuccessful attempt to find the primary wave. We were still little more than 7 miles from the airfield. After this we kept to a 7-8 Kt descent rate while heading south to a point behind Green Mountain. After this we turned back north, still descending until we reached Grand Canyon. We followed this out through a gap in the Front Range and so back across downtown Boulder and into the pattern, landing after 90 minutes.