MaxMen 2003 - Homeward bound
Monday had dawned overcast and threatening rain with a low overcast, and it was time to head for home. First order was to load the van after a final breakfast at Burns Brothers. We were proud of the amount of mud we'd managed to cover the minivan with so didn't wash any of it off. Hertz were not impressed.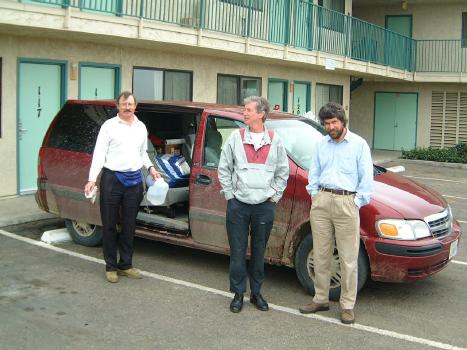 Packing the minivan at Motel 6.
After that we had a straight forward drive south down the San Joaquin valley and over the grapevine, which was impressively cloaked in mist.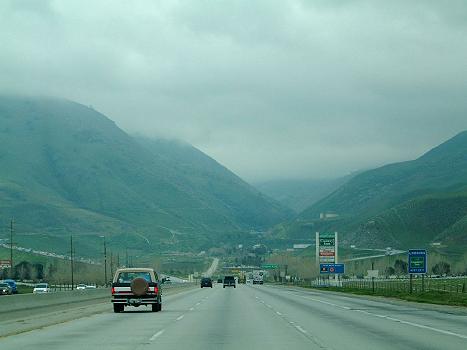 Approaching The Grapevine from the San Joaquin Valley.
Once over the Grapevine, we dropped down into Greater Los Angeles and, pausing only to raid a couple of malls, drove straight to LAX. During our stay in Lost Hills I-5 had been blocked by a mud slide. Los Angeles really did get the showers of frogs etc we'd been promised but didn't receive. However, the only mud slide we saw was a tiddler. It was just collapsed landscaping round an off-ramp. Maybe I missed the real one, but this certainly didn't look big enough to have stopped the mighty interstate.
Meanwhile there was a serious snow storm on the East Coast that shut airports from Boston to Washington DC and caused serious chaos. My friend Jerry Barnette, who had spectated at the MaxMen, didn't get home until two or three days later and still had to dig his car out of the airport parking lot.
After handing the minivan with added mud back to Hertz we arrived at LAX to find plane loads of Antipodeans, who had flown into LAX intending to travel overland to JFK before flying on to the UK, were frantically trying to rebook onto our flight in order to avoid the East Coast snow. We arrived ahead of the rush to a nice greeting from BA, who took care of our model boxes and upgraded us to business class rather than putting the transferees into the better seats. As a result we were in the paired forward/aft facing, fully reclining seats and had a pretty comfortable trip home.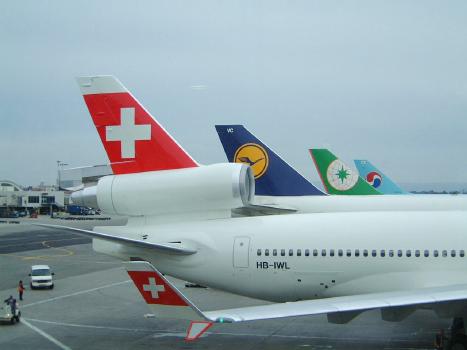 LAX parking lot.
This time everything worked right. The plane landed on time, our boxes were hand-carried off the plane rather than being tipped down the conveyor, the day was bright and breezy though cold, and Lauren arrived in the Fantham-mobile just as we walked out of the terminal.