MaxMen 2003 - practise days
The first practise day dawned cloudy, so we went trimming after breakfast at the truck stop. The field was green at a distance, but closer inspection showed sparse grass on the clay. There were no pukka bushes within miles and the dampness meant there was no dust, so little risk of Valley Fever.
| | |
| --- | --- |
| | |
| Julian's model box and M&K bunter. Note the sparsity of the grass. | Martin's box. This is a modified golf-bag shipping case. Towlines, etc are in the compartment built into the lid. The box seems to be airline proof. It holds four F1As. |
The morning was a useful session, if a bit slippery underfoot, until rain stopped play before lunch. We retreated to Lost Hills for lunch without any problems getting off Bentonite Flats, and came out again after the rain stopped. This time we took the long way on and only stuck once. After a full afternoon trimming, we left by the rather slippery main entrance and again ended pushing the Venture out of a slippery patch.
The second practise day was calm and dry all day. By the end of it we'd trimmed all our models and were ready for the fray.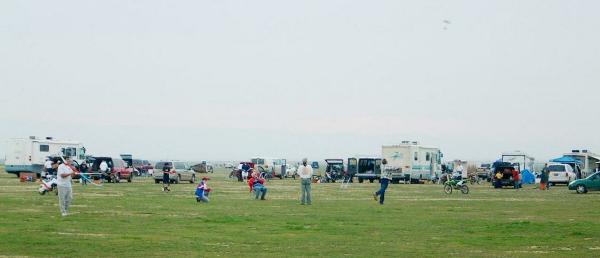 Lost Hills campsite.
It was a feature of the trip that every day we were in Lost Hills the weather forecast was for wind, rain, plagues of frogs, etc. And every day, while it may not have been bright Californian sunshine apart from the second F1A day, the winds were calm and variable and there was no rain apart from the first practise day. In short, almost perfect conditions for practising and competition flying.