Y-engine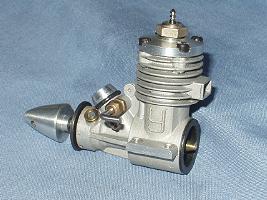 Y-engine. Bob Gutai photo.
"I got this [Ukrainian] engine from Eugene Verbitski 5 or 6 years ago. I'm sure like most other engines, the more nitro the better they like it. This "Y" engine has a lot of similarities to the KC-06. Just got off the phone with Happersett. He didn't have a lot to add except that he ran his "Y" engine on about 55% nitro and it was about 2K slower than his best engines. It ran somewhere around 28.1K from what he remembered. He also said he thought it may have been made by the same guy that originally made the KC, but wasn't really sure."
- Bob Gutai.
That would make the Y-engine similar in output to the Rex-06 rather than to the Cyclon 06. According to Vasily Beschasny the engine is no longer available and the manufacturer is no longer in business.