Profi 049/061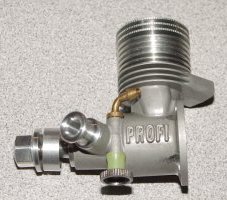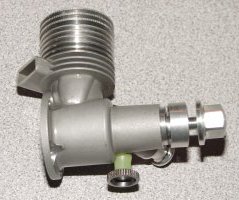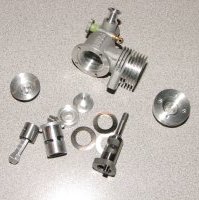 Production model. Jim Booker photos.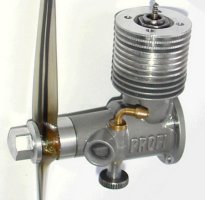 Profi 049 prototype. The main external change for the production model was the extended venturi insert. The crank case casting appears to be the same.
Jim Booker photo.
049
First announced in September 2005, this engine is clearly designed for the 1/2A combat market, hence the intake and exhaust stack placement. Profi intend it for use in 1/2A Profile Proto, 1/2A combat, 1/2A racing, 1/2A Free Flight and maybe some RC racing events.
The cylinder is AAC technology, though without Schnurle porting. Prototypes used Nelson plugs. Production engines are shipped with both a Nelson head and a head for Turbo NovaRossi plugs, which allows a nicer looking combustion chamber to be made. However, there seems to be no performance difference between these heads.
The crank shaft is large at 10 mm OD to promote good breathing and runs in twin ball races. The rear race is 10mm ID. Both bearings are low drag, long life types and are easy to replace without harming the crankcase. The venturi is set up for a bladder and doesn't have any pressure tappings or flood-off inlets. This is unsurprising in view of its combat antecedents. However, there is a thick hexagonal boss in the centre of the screw-in backplate which could easily accept a pressure tap. The engine is radially mounted. It weighs 54 grams, just under 8 grams more than a Cox TeeDee 049.
On a standard 1/2A combat prop and unstated fuel it is said to run at 34,300 rpm. Doug Galbreath reports (2009) that for FF use it should turn an APC 5.5" x 2" prop at 29,000 rpm, which makes it equal to the Cyclon 049. The fuel he used wasn't mentioned.
A rear exhaust speed version with a conventionally placed venturi was being planned in 2005 and was expected to be available in 2006. No performance data is currently available for it.
061
An 061 version of the combat engine was introduced in 2008. The engine uses the same crank case so the outward appearance is exactly the same as the 049.
Both 049 and 061 engines and spares can be obtained from Hobby Club.