MP Jet BB F1J Special and Galbreath tuned versions
MP Jet is a Czech model manufacturer. The standard free flight MP Jet 061BB diesel and glow engines are still in production though the tuned versions described on this page are no longer available.
All information and photos, except where noted, were supplied by Chris Murphy.
MP Jet 061BB versions
MP Jet 061BB F1J special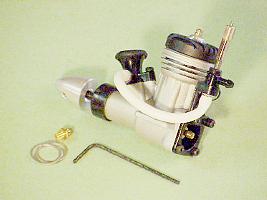 MP Jet 061BB F1J special.
Carlsen Engines Imports photo.
This is a factory tuned MP Jet 061BB. It is fitted with a pressure tapped backplate, remote needle and large bore venturi. It did 21,900 on APC 5.7 x 3 on 5% nitro and 30,100 on 5 x 2 Graupner on 5% nitro. The Aeromodeller engine test estimated 0.32 BHP at 28,000 rpm on 40% nitro. If it can spin an APC 6 x 2 at this speed it would be in the same league as the Shuriken and the Rex-06.
Galbreath modified MP Jet 061BB.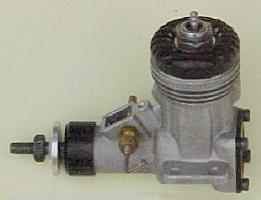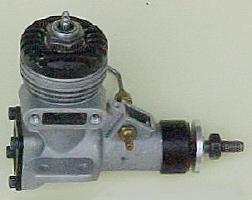 Galbreath modified MP Jet 061BB.
This version was a Doug Galbreath tuned MP Jet 061BB. Modifications included a Nelson plug adapter button, custom needle valve assembly, increased exhaust timing, lightened piston, rebalanced crankshaft, transfer passages machined into crankcase casting and corrected shaft bearing preload. Performance was claimed to be 28,000-29,000 rpm turning an APC 6x2 propeller on 50% nitro, putting the modified engine in the AD-06 league.
Accessories
A radial mount, pressure feed backplate and spinner nut are standard accessories.
References
MP Jet 061BB F1J special review. Aeromodeller, July 1996.