Minsk 061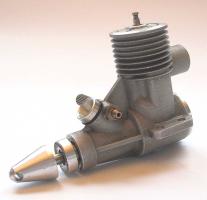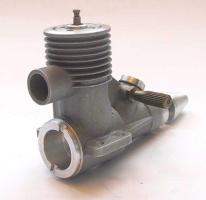 Minsk 061. Photos by Adrian Land.
The Minsk-061 is a twin ball-race engine with beam mounting lugs. It is built to typical Russian standards. The cylinder/piston assembly is ABC technology. The head is a custom alloy insert containing an integral glow element and is retained by a screw-in clamp ring. The clamp ring follows the Russian custom of having four holes drilled to fit a special wrench which was not supplied with the engine. The engine is evidently not intended for piped operation because the exhaust stack is not grooved to take O-rings and the exhaust timing looks quite moderate. The supplied spinner and prop driver look as if they are intended for Control-Line use rather than for Free Flight. In support of this view the crank case casting has no provision for a prop brake and there are no pressure taps or flood-off fittings in the crank case or backplate. The latter is a plain screw-in alloy turning. The complete engine weighs 70 grams.
No documentation was supplied with the engine and it has never been run, so nothing is known about the type of model it was intended for or the preferred fuel and propeller. Performance data is unavailable.
History
Dave Clarkson imported Minsk-061 engines into the UK under his Engines From Russia brand. He says they were made by a model car enthusiast in Minsk, hence the name, and that only about half a dozen were made.
Adrian received this example by mistake when he ordered a VA 049 from a UK engine dealer. The correct box was delivered but it contained this engine instead. The dealer was apparently quite embarrassed by this, particularly as he doesn't normally deal in engines of this type. However, as the Minsk 061 looked to be a good quality engine, Adrian kept it. Dave Clarkson was the original UK source of the engine, but there is at least one other person between that dealer and him. As Dave has never dealt with that dealer or handled boxed VA 049s and it appears that the dealer never opened the box it follows that somebody else must have made the mistake of putting the Minsk 061 in the VA box before selling it on.