F engines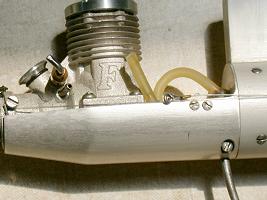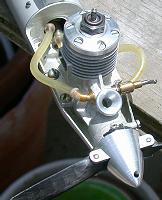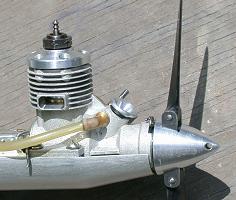 Charles B. Dorsett photos.
This is a purpose built F1J engine from the Tartar republic. It is a twin ball race engine that is available with ABC or AAC cylinder technology. It is equipped as standard with an integral brake, flood-off inlet and pressure tapped backplate. Like many engines from the Russian republics, it is equipped for a pressurised hard tank rather than a bladder, though of course swapping it to a bladder is quite easy. The standard head suits a Nelson plug, though it can also be supplied with a head suitable for Rossi and Novarossi plugs. The choice of head is a no-cost option.
The folding carbon propeller shown in the pictures is a standard accessory. It is available in diameters of 148, 150 and 152 mm for no, medium and high nitro fuel. The pitch is not stated.
Roger Simpson ran the pictured engine on 40% nitro and it turned 29,600 rpm on this propeller. The engine's maker, Ildar Faizrakhmanov, quotes about 29.500 for the ABC version and 31-32.000 for the AAC version on this propeller: I don't know what fuel he uses.
Lynn Pulley writes
I have been using one of these engines for about a year and am very pleased with it. I have won several local contests and placed high in all that I have entered. In the recent San Valeers annual, competing against about 10 other F1J flyers,( using Cyclon 061 and KC-06 engines), there were three of us using F engines. Myself , Tony Robertson, and Jeff Ellington. Tony retired in the 5th round due to timer failure, while Jeff & I finished 1st and 3rd respectively just 8 sec apart. My engine turned 29,500 rpm on Ildar's 152mm prop using 25% nitro the day I received it. Ildar won't ship an engine unless it is turning at least 29,000 rpm on 0% nitro with a 148mm prop. My engine is now closing in on 31000 rpm with the same prop and 40% nitro! This performance level has so impressed the other flyers that I have sold an additional 10 engines for Ildar in the last two months. Beyond the engine's performance and high quality, doing business with Ildar is a pure pleasure. He is honest and above board, and a true gentleman in all respects.
As far as I know this F engines price list is correct. These engines can be obtained directly from:
Ildar Faizrakhmanov
Shamil Uzmanov str., 23-32
Kazan, Tatarstan
Russia

Thanks to Bob Beecroft, Chuck Dorsett and Lynn Pulley for information about this engine.