Allard van Wallene: flaps
Exspan 2004
This is Allard's original ExSpan design. Development started in 2003 and it had its first public outing at the 2004 Holiday on Ice.
This version uses a conventional tow hook and ABAS timer.
| | |
| --- | --- |
| | |
| The systems: the flap drive servo is on the left with the stabiliser servo immediately behind the hook. | Outer flap drive. |
| | |
| The wing section with the flap raised to demonstrate its position during ballistic cruise. | Centre section showing wing attachment. |
These photos were taken at Holiday On Ice 2004 by Mike Woodhouse of Free Flight Supplies.
The flap is under proportional servo control. It is set to glide position during tow, lifted slightly for acceleration and pitch up and moved full up during up ballistic cruise and bunt. It is then lowered for fast glide and glide before being pushed full up again for faster d/t.
This was the first flapped F1A to withstand all out bunt launches. Here is Allards development timeline:
Summer 2003 the idea was born.
I started building autumn 2003.
Model finished winter 2003/2004.
Brought it to Norway March 2004, where Mike Woodhouse took the pictures shown above.
Early spring 2004, first full out launches were made. See the 2005 NFFS Symposium for more details.
During 2004 it was test flown often and optimized.
March 2005 it was flown in Norway for all rounds of the competition.
May 2005 flown in Usti for two rounds, where some flyers witnessed 80m+ launches, and won two big competitions in Holland against de Boer, van Dijk, and Ivo Kreetz to name a few.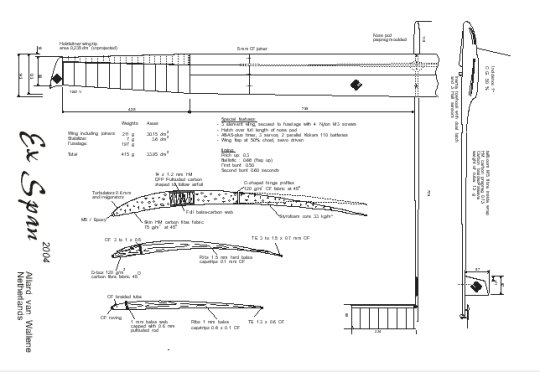 Click the plan for a higher resolution image.
Exspan 2006
The 2006 version is fitted with a Flexhook tow hook and ABAS timer.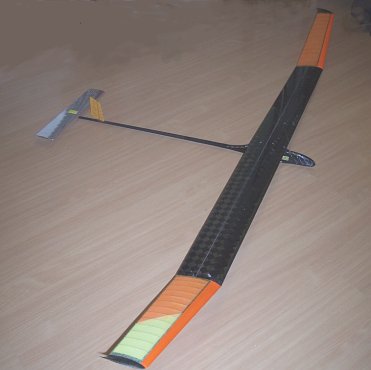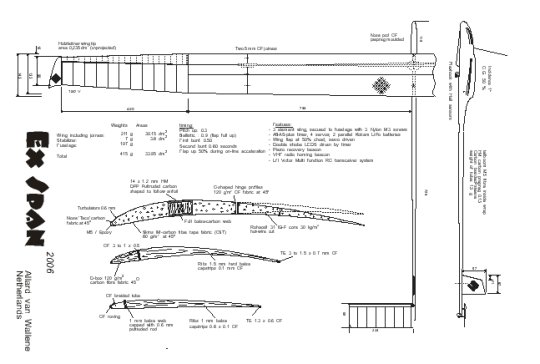 Click the plan for a higher resolution image.